HILLHAVEN KENNELS:
"WHEN YOU SEE THE NAME HILLHAVEN THIS IS WHERE IT All STARTED" Home of Bird Dogs with Beauty!! A nationally recognized name for German Shorthaired Pointers for over 50 Years.
Call anytime for the availablility of puppies and or finished gun dog. We take great pride knowing that we are provideing top quality hunting dogs that want to please their owners,"They look good and hunt great."
If you have a question on our dogs or our training.
Contact: David, Janice Hill
Hillhaven Kennels
5920 South Emerson Road
Beloit,Wi 53511
(608)879-2728
DC  Hillhaven's Hustler
(Hillhaven's Handsome  x  Hillhaven's Mark V's Mandy)
(September 27, 1978 – August 22, 1994)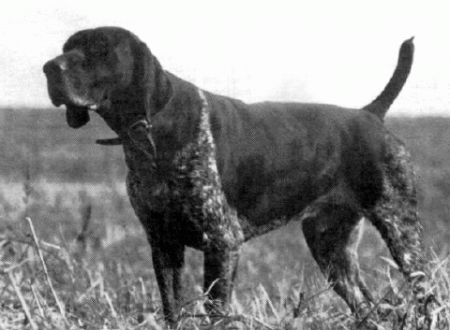 Pedigree:  DC Hillhaven's Hustler

Axel Von Wasserschling
Peron
Gina Von Enzstrand
DC Erick Von Enzstrand
DC/NFC Kay Vd. Wildburg
Hope Von Luftnase
Ch. Wag-Aes Sheba Bruner
Ch. Hillhaven's Chief Honcho
DC Bo Diddly V Hohen Tann
Hillhaven's Rex V. Hohen-Strauss
Strauss Cameo
Hesgard's Mrs Mitz
Johnsons Dart
Queen Valley
Johnsons Lady Moesgarrd
Hillhaven's Handsome
Axel Von Wasserschling
Peron
Gina Von Enzstrand
DC Erick Von Enzstrand
DC/NFC Kay Vd. Wildburg
Hope Von Luftnase
Ch. Wag-Aes Sheba Bruner
Hillhaven's Proud Mary
FC Tip Top Timmy
FC Uodibar's Boss Man
NFC Heidi V Ufer Wald
Hillhaven's TNT
Amt. NFC Moesgarrd's Coco
FC Saxony's Brandy
FC Saxony's Sue
FC Yunga V Hundsheimerkogel
Heller V Hundsheimerkogel
FC Freida V Schoenweide
Rough Shooter's John L
FC Von Thalberg Fritz II
Chubby Von Greif
Zetta Von Fuehrerheim
NFC Mark V's One Spot
KS Pol Von  Blitzdorf
DC/NFC Kay Vd. Wildburg
Cora Von Wesertor
Ritzie Fredia Von Wildburg
Fritz Von Brickwedde II
FC My Ritzie Fer Gitunburdz
Ashley Red Dancer
Hillhaven's Mark V's MANDY
Axel Von Wasserschling
Esser's Chick
Jagers Nama
NFC/FC Blick Von Shinback
FC Von Thalberg Fritz II
Melissa Von Greif
Patty Von Greif
Blick's Mariah V. Jango
Sof Spun Duke
Duke V. Schmoldt
Uller V. Schminke Lux
Val's Heidi V. Schmoldt
Altas Perfection
La Richards Croquett
La Richards Miss Priss
DC Hillhaven's Hustler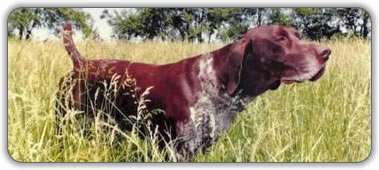 The following write up on Hustler was taken from "The New Complete German Shorthaired Pointer" by Robert McKowen. "With his impressive background of all-time greats, Dual Ch. Hillhaven's Hustler was destined to earn a place in breed history. He was bred in 1978 by Dave and Jan Hill of Wisconsin and sold to Helen B. Shelly and Randal l Sime. Jan Handled Hustler to his show championship in 1982, and Dave handled him to his field Championship in 1983. After his dual championship was completed, Hustler's ownership was transferred to the Hills.
Hustler was by Hillhaven's Handsome (Hillhaven's Mark V's Mandy). In the background is perhaps the greatest concentration of Germany's leading sire: Axel v Wasserschling through the Axel son, Peron, on both sire and dam's side of the sire and through DC Esser's CHick, another Axel son on the dam's side. Hustler's great grandsire on the sire's side is Dual Ch. Erick v. Enzstrand twice in the fourth generation and FC Uodibar's Boss man in the 5th generation. On Hustler's dam's side are NFC/FC Mark V's One Sport, NFC Blick v Shinback and Dual Ch. Kay v.d. Wildburg. His pedigree includes six Hall of Fame Members.
Hustler was a sire of the year for dual-type dogs, and many of his get went on to establish their own impressive records. He is currently the all time leading sire of Dual Type dogs with in the GSPCA and a member of the Hall of Fame as well.